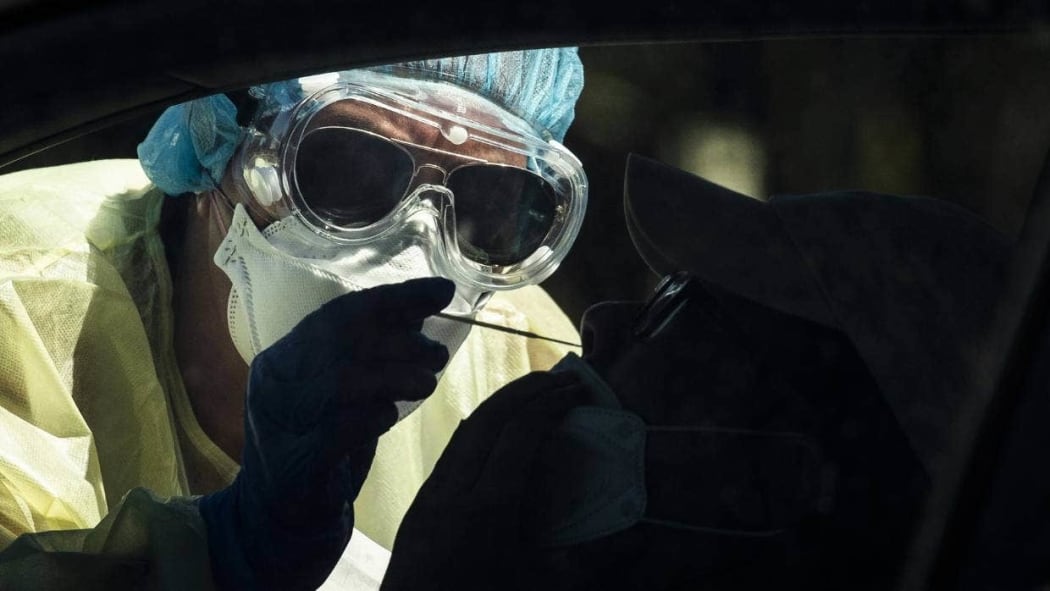 Covid cases in Nauru continue to rise
The number of active covid-19 cases in Nauru has risen to 3,381 as the country's second week of community transmission draws to a close.
President Lionel Aingimea says 220 new cases have been recorded in the last 24 hour period.
He said so far just under 10,000 (9890) tests had been processed.
Niue detects two more cases of Covid-19 at the border
Niue detected two cases of Covid-19 at the border after mandatory day three testing.
This brings the total number of cases in Niue to seven, since Quarantine Free Travel opened on Monday July 27 local time.
Chief Social Services Officer Gaylene Tasmania said the seven active cases and their close contacts are being isolated and very closely monitored by Niue health officials.
Prime Minister Dalton Tagelagi has been confirmed as a close contact and is in isolation.
Ms Tasmania said Niue remains at the yellow alert level as there is no community transmission.
Anyone with symptoms of Covid-19 has been urged to contact Niue Foou Hospital.
Samoa Department of Health reports new Covid cases
Samoa's Department of Health has confirmed that eight passengers on a flight from New Zealand on June 26 were tested for Covid-19 on arrival.
The ministry's latest reporting period data shows that 50 new community cases were reported from June 27-29.
The total number of community and border cases now stands at 14,964.
There were no Covid-related deaths during the reporting period and the total number of deaths since March 17, 2022 remains at 29.
So far, 158,240 rapid antigen tests have been administered since the first community case was confirmed.
The Ministry continues to promote vaccination as the best defense against the serious effects of the virus.
The Northern Marianas have recorded their 35th death linked to Covid-19.
Health officials also reported 189 new community cases.
The CNMI recently moved to the Covid-19 community level due to an increase in the number of community cases.
Fundraising in Auckland for a Tongan NGO
A Pasifika group in Auckland is raising funds to purchase a 12-seater vehicle for the Women's and Children's Crisis Center in Tonga.
The center is Tonga's main public service for women and children in need of shelter from domestic violence.
Organizer Reverend Asora Amosa said January's volcanic eruption inspired people to help.
"It's in our human DNA to help. Part of our constitution is to help. That's primarily why our team reaches out in this way, it's the passion and spirit to give , to help someone in need."
The donation campaign ends on Saturday.
Samoa women's under-16 basketball team make history in Jordan
Samoa Women's Under-16 Basketball Team made history by winning the B Division Championship at the FIBA ​​U16 Women's Asia Championship 2022 in Amman, Jordan.
The FIBA ​​Asia Women's Under-16 Championship is an event under the FIBA ​​Asia Zone of the International Basketball Federation.
The national team led by Azaleeah ​​Oloapu defeated the Syrian team after a very close game ending in a 79-76 to win the B division.
In an interview with FIBA ​​media, Oloapu, who is a Samoan living in Australia, said she hopes to see the sport grow in her native country in the near future.
"I live in Australia, where basketball is very strong there, so there are a lot of people supporting and encouraging it. But in Samoa, there are not many people who play basketball or who know how to play basketball," she said.
The tournament began in 2009 and is held every two years with the top four teams qualifying for the FIBA ​​Under-17 Women's Basketball World Cup.
Aircalin will fly twice a week from Noumea to Singapore,
Tourist links will be boosted between New Caledonia and Singapore with a new airline now operational.
Aircalin will fly twice weekly from Noumea to Singapore, aiming to induce the territory's tourism market and add new routes to Asia and Europe.
New Caledonia's tourism director, Julie Laronde, told La Premiere that the new route could even help reach other Southeast Asian markets.
"This is a fantastic opportunity for us to open our tourism market to Singaporeans but also to other markets in Southeast Asia.
It will even help us develop a tourist clientele with new connections between France and Europe," she said.
The Cook Islands football team had a tough draw at the OFC
The Cook Islands' top football team, Nikao Sokattak FC, have earned an OFC Champions League draw against nine-time winners Auckland City FC in their group.
The draw, held Thursday in Auckland, also pits Nikao against last champions Hienghène Sport and Rewa FC of Fiji.
In Group A, AS Venus of Tahiti was drawn alongside Galaxy FC of Vanuatu, Lae City FC of Papua New Guinea and Central Coast FC.
The winners will represent Oceania at the FIFA Club World Cup at the end of the year.
It is the first time the Champions League has been held since 2019 due to pandemic-induced travel restrictions.
Solomon Islands and Tahiti name their OFC teams
Solomon Islands and Tahiti have named their respective 22-man squads for the upcoming OFC Women's Nations Cup in Fiji.
Solomons coach Batram Suri has called up an all-national squad for the tournament which starts later this month.
Solomon Islands were drawn in Group C alongside Fiji and New Caledonia.
Tahiti coach Stephanie Spielmann meanwhile chose a mix of national players as well as those based in France, India and the United States.
Tahiti were drawn into Group B alongside Papua New Guinea and Vanuatu.
The winners of the tournament then play intercontinental qualifiers for the chance to compete in the Women's World Cup next year.