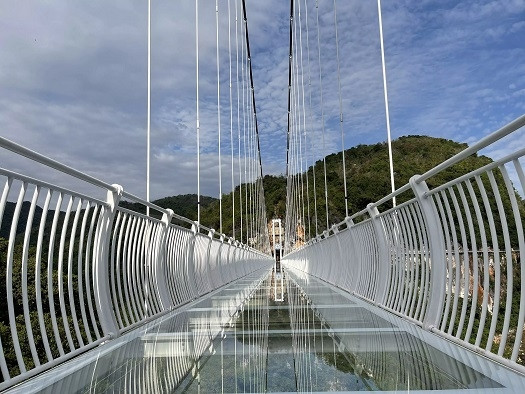 Bach Long Glass Bridge – A new tourist attraction in Moc Chau
Located in Son La province, at a distance of 200 kilometers from Hanoi, the Moc Chau plateau is 1,050 meters above sea level, with an area of ​​about 80 kilometers in length and 25 kilometers in height. wide. The plateau is one of the most famous destinations in the northwest region for tourists due to its cool climate almost all year round.
The Moc Chau plateau is famous for a large herd of dairy cows, huge tea hills, large gardens of plum and apricot trees and large pastures of around 1,600 hectares. The climate is a particular tourist resource of this place. Usually, the average temperature is only 200°C, with cool summer and dry winter. Autumn and spring in Mo Chau are the season for tea and pine. It is then that the whole board will be covered with a beautiful and fresh green color.
A glass bottom bridge named Bach Long (White Dragon) was recently opened in Moc Chau and it immediately became a new tourist attraction.
Measuring 2.4 meters wide and 632 meters long, of which 290 meters crosses the cliff of the mountain while 342 meters curves along the side of the mountain, the new Bach Long Bridge resembles a winding white dragon embracing the mountains and the forests of Muong Sang. Its floor is made of super tempered glass imported from France.
The Bach Long Bridge offers an impressive panoramic view of a spectacular mountain landscape. Looking out from the glass bridge, visitors will be delighted with the view of a 150m deep chasm.
Bach Long is the third glass bridge in Vietnam, after Tinh Yeu (Love) Bridge, also in Moc Chau, and Rong May (Cloud Dragon) in Lai Chau province.
Open to visitors from April 30, Bach's Long Bridge was declared the longest glass bridge in the world by Guinness World Records at the end of May. Additionally, it has been recognized by the Guinness World Records (GWR) as the longest glass-bottomed cliffside path, measuring 327m, and by the World Record Association (WRA) as the longest glass-bottomed bridge. world glass.
Some pictures of the bridge:
The Ha
Photo: VietNamNet/Dan Viet/VOV