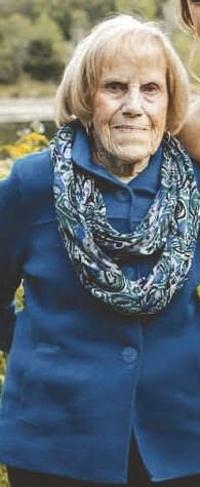 Marguerite A. Walker, 93 years old | Obituary
LACONIA – With deep sadness, the family of Marguerite A. (Gilbert) Walker from Laconia, announces her passing at the age of 93 after a brief illness at LRGH on Wednesday, December 23, 2020.
Margie was born on December 14, 1927, the third of 14 children to Mary and Eugene Gilbert of Laconia, the town she has called her home all her life. She attended the Sacré-Cœur school and was a communicant of the parish of Saint-André Bessette.
In her younger years, Margie helped raise her younger siblings. She worked for William Gilbert Clock as a young woman and later in life she worked for the food service at Contigianti. Marge also volunteered for many years with the St. Vincent DePaul Christmas and Pantry Program. She prepared meals for the Holy Trinity School Meal Program, providing meals to families suffering from loss, illness or new mothers.
In 1947, she married Earle, her beautiful husband of 62 years. Together, they raised five strong, hardworking and independent children. Margie's years were filled with costume sewing, meal preparation, and traveling with Cheryl, Janice and Judy's Drum and Bugle Corp, to cheer on Danny's # 88 Walker Racing car and cheer on Natalie in her competitions in the roller skating team.
She truly connected and touched the hearts of everyone she met. Without hesitation upon seeing Margie, you were warmly greeted with a hug. Not just any hug, she would put her nose in your neck, hug you and squeeze you tight. It was well known that Margie's door was open to family and friends from morning to night. Her home was the gathering place and she was always prepared for an impromptu meal or snack. There are many memories of sitting in the rocking chairs in the kitchen with a cup of Dunkin 'Donuts coffee, remembering for hours the memorable family meals and backyard garden games, card games and more. of cribbage after dinner, and even the occasional stuffing. Every now and then, you catch her hiding her secret, not-so-secret, stash of chocolates. Marge could buy anyone and would come home with some great finds, most of which were given to others. She loved to travel, whether it was a road trip to visit with the family out of state, to Newfoundland, or a trip of a lifetime to Europe visiting France. and Spain. She was always up for the adventure! She loved listening to Andrea Bocelli and Edith Piaf, the French singer-songwriter, staying informed via talk radio and later in life, a penchant for watching football with a family rooted in the New England Patriots. She had a soft spot for all of her big cats and dogs and was always ready to give them a treat.
Margie's most devoted role in the family was that of Nana. She gave her grandchildren the gift of love, support and service before them that they would carry with them throughout their lives. They are always grateful to have had Nana in their life. She provided a daily routine, led the show of hands prayer before meals, helped with schoolwork, and taught a few words of French while singing all of those French songs. She was even patient enough to teach a few grandchildren how to lead! She was a constant presence to cheer them on at their soccer, volleyball and baseball games, and dance recitals, and even volunteered for 15 years with Sally's School of Dance in Meredith. Memories of blanket forts in the living room, cinnamon and sugar toast, and the best Barbie doll cakes. Summer days were filled with visits to the beach, duck fries at Burger King, ice cream at Franken Sundae, games at Funspot, and walks in the Lake District.
What everyone will remember the most is how she made you feel, whether in person or on the phone. The conversation affectionately began with "I was just thinking of you" and ended with "God bless you, my dear, I love you". that you really think you are the most important person.
Marge was predeceased by her husband Earle, her siblings, Cécile, Rena, Stella, Armand "PeeWee", Laurent "Boze", Arthur "Fats", Leo "Pop or Joe", Maurice "Mo", Robert "Bobby", and his grandchildren Tracy and Jason.
Margie is survived by her children; Cheryl Walker of AZ, Janice Walker of NH, Judy Johnson of CT, Earle "Danny" Walker (wife Kelley) of NH and Natalie Bacon of NH; her grandchildren, Nicole Fagula and Scott Fagula of WI, Kate Singer of CT, Kyle (wife Allison) Johnson of PA, Heather (husband Roger) Brown of NH, Angela (husband Isaac) Delabruere of VT and Maggie Walker of NH. She also leaves behind seven great-grandchildren, Elliette and Haley Singer of CT, Brady, Sarah and Luke Johnson of PA, Braxton Brown of NH and Lillian Fagula of WI; and sisters, Grace Abbott of TN and Alice (Susie) Brown of NH; and brother, Roger Gilbert of NH. All have been blessed with his love.
The family would like to thank the hospital staff of LRGH for the good care they received.
An Intentional Mass will be celebrated on Sunday October 17, 2021 at 10:30 am at St. Andre Bessette Parish – Church of the Sacred Heart, 291 Union Avenue, Laconia NH.
A Celebration of Life will follow at 11:30 am at the Beane Conference Center, 35 Blueberry Lane, Laconia.
A private funeral took place in January at the Sacred Heart Cemetery, Laconia, NH.
For those who wish, the family suggests that memorial donations be made in memory of Margie to Holy Trinity School, 19 Gilford Ave, Laconia, NH 03246 or St. Vincent De Paul Society, 1269 Union Ave, Laconia, NH 03246.
Wilkinson-Beane-Simoneau-Paquette funeral and cremation services and 603Cremations.com, 164 Pleasant St., Laconia, NH, 03246, helps the family with the paperwork. For more information and to view an online memorial, please visit www.wilkinsonbeane.com.